9/18 Shawnn Monteiro Quartet
September 18, 2021 07:00 PM until September 18, 2021 10:00 PM
Slide 1 of 2
Slide 2 of 2
Live music is back on stage at The Mad Monkfish! For those who can't make it to the Jazz Baroness Room, Monkfish now streams live all of its performances on their Facebook page. 1st Show: 7:00-8:15pm and 2nd Show: 8:45-10:00pm
Shawnn Monteiro, vocals
Tim Ray, piano
Dave Zinno, acoustic bass
Yoron Israel, drums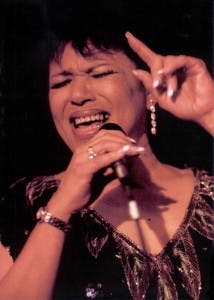 Exciting, captivating and completely distinctive" is how most jazz cognoscenti describe Shawnn's pulsating lyric style. Whether in the intimacy of a club date or the glitter of a Las Vegas showroom, Shawnn has delighted audiences from USA to Europe with her highly popular jazz repertoire laced with blues-oriented improvisations.
Evident in Shawnn's liveliness of lyrical phrasing and intermittent scat variations is the influences of Carmen McRae and Sarah Vaughan, from whom she draws that inner core of creative energy. But good genes help, too. Shawnn's father was the late renowned bassist Jimmy Woode, veteran of the Duke Ellington band. Throw into the mix, a lot of musical inspiration and guidance from her Godfather, Clark Terry, and you come up with a combination that can't miss.
Percussion great and latin/jazz impressario Mongo Santamaria discovered Shawnn working in a club in San Jose, California and signed her on the spot to tour with his band. Shawnn electrified audiences as his only vocalist and female percussionist during that two-year circuit where she shared the stage with such greats as Stan Kenton, Celia Cruz, the Fania All-Stars, and Weather Report.
Since then, Shawnn has shared the state with a prestigious list of notables jazz names: Clark Terry, Red Holloway, Ray Brown, Lionel Hampton, Frank Foster and the Basie Band, Nat Adderly, Kenny Barron, Hank Jones, Bobby Durham, James Williams, Jimmy Cobb, Keter Betts, Stanley Jordan, Ed Thigpen, Johnny Griffin, and Benny Golson....to name a few.
Her popularity continues to grow as clubgoers from Los Angeles to Rome extol the special feelings they share as she lulls them into a mellow mood as only a sensitive jazz vocalist can do. The true magical quality of Shawnn's exciting voice is best experienced in the ultimate setting of the club dates where her warm charisma can be personally felt by those fortunate enough to spend and evening with her.